Brrr
01 Wednesday May 2013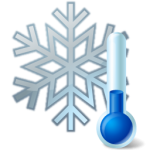 We learned that this March had been the sunniest in Reykjavík in over a decade, and apparently April was the coldest since the turn of the century according to this Vísir article.
Apríl sá kaldasti síðan um aldamót – Coldest April Since Turn of Century
"Aprílmánuður var sá kaldasti í Reykjavík síðan árið 2000 og á Akureyri frá 1990. Úrkoma var um 70% af meðalúrkomu í Reykjavík, en í rétt rúmu meðallagi á Akureyri, eftir því sem fram kemur á vef Veðurstofunnar."
"April was the coldest in Reykjavik since the year 2000, and in Akureyri since 1990. Precipitation was around 70% of average in Reykjavik, and right around average in Akureyri, according to the website of the weather bureau."

alda·mót n pl		turn of the century
úr·kom/a f (-u,-ur)	precipitation
meðal·lag n (-s)	average, mean

"Í Reykjavík voru sólskinsstundirnar óvenju margar, höfðu mælst 212 þegar einum miklum sólardegi var ólokið. Trúlega verður þetta þriðji mesti sólskinsapríl í Reykjavík frá upphafi mælinga."
"In Reykjavik the hours of sunshine were unusually high, having measured 212. This will probably be the third sunniest April in Reykjavik since measurements began."
If someone can help with "þegar einum miklum sólardegi var ólokið", I'm just not getting it for some reason… "when one of the sunniest days wasn't finished"?

ó·venjulegur adj	unusual
ó·lokið adj n		unfinished
trú·lega adv		probably
upp·haf n (-s)		beginning, start