Off To A Good Start
15 Saturday Jun 2013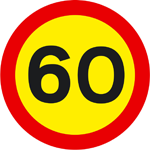 From all the news reports, speeding seems to be just as big a problem in Iceland as anywhere else. Every few days there are stories about people caught doing outrageous speeds, but there's nothing like getting pulled over for speeding moments after getting your driver's license 🙂
Var með bílpróf í nokkrar mínútur
Had driver's license just a few minutes
"Það var heldur stutt gamanið hjá unga ökumanninum sem lögreglan stöðvaði á höfuðborgarsvæðinu á dögunum."
"The fun was rather short-lived for a young driver who was stopped recently by police in the capital area."
"Í orðsendingu frá lögreglunni segir að ökumaðurinn hafi verið í sinni allra fyrstu ökuferð, en hann hafði öðlast ökuréttindi nokkrum mínútum áður en lögreglan stóð hann fyrir hraðakstur."
"A statement from police says that the driver was out on his very first ride, and had gotten his license just a few minutes before police charged him with speeding."
The verb að aka is another word for to drive, like að keyra. In compounds you often see the aka- prefix in the form of öku-, due to the u-shift, like öku·ferð (driving trip), öku·maður (driver), öku·hraði (driving speed), etc.
að aka – to drive
present
past
ég
ek
ók
þú
ekur
ókst
það
ekur
ók
við
ökum
ókum
þið
akið
ókuð
þau
aka
óku

að keyra – to drive
present
past
ég
keyri
keyrði
þú
keyrir
keyrðir
það
keyrir
keyrði
við
keyrum
keyrðum
þið
keyrið
keyrðuð
þau
keyra
keyrðu
"Bíll ökumannsins mældist á tæplega 120 km hraða þar sem leyfður hámarkshraði er 60."
"The driver's car was clocked at nearly 120 km/hr where the posted speed limit is 60."
The prefix hámarks- is seen a lot meaning maximum or top whatever, in this case speed and the idea of limit.
"'Fátt var um svör þegar spurt var um aksturslagið, en vonandi lærir ungi ökumaðurinn sína lexíu og kemur aftur í umferðina sem betri ökumaður. Hann fær nú tíma til að hugsa ráð sitt, en bæði svipting og sekt liggur við hraðakstri af þessu tagi,' segir í tilkynningu frá lögreglu."
"'He didn't have many answers when asked about his driving, but hopefully the young driver learns his lesson and comes back as a better driver. He'll have time to think it over, as both a suspension and fine are imposed for this degree of speeding,' says the notice from police."
So to "learn your lesson" is pretty much the same in Icelandic, að læra lexíu 🙂

orð·sending f (-ar,-ar)             message
öku·ferð f (-ar,-ir)                drive, ride
öðlast v refl (-aðist)              obtain, get
hraði m (-a)                        speed
hámarks·hraði m (-a,-ar)            maximum speed
lexía f (-u,-ur)                    lesson
svipting f (-ar,-ar)                deprivation
sekt f (-ar,-ir)                    fine