Million Kronur Bus Pass
31 Friday Jan 2014
I guess if you live in Reykjavik and work in Hofn, this might be a good deal, but so far nobody has purchased the $12,500 nine-month bus pass 🙂
Strætókort á eina og hálfa milljón
Million and a half kronur bus pass
Dýrasta strætisvagnakort sem hægt er að kaupa sér á stræto.is nemur tæplega einni og hálfri milljón króna. Sú upphæð kemur upp ef leitað er eftir korti sem flytur viðkomandi ótakmarkað frá Höfuðborgarsvæðinu til Hafnar í Hornafirði og gildir í níu mánuði. Upplýsingafulltrúi Strætó bs. segir ekki um prentvillu að ræða.
The most expensive bus pass you can buy on straeto.is costs nearly one and half million krona. This total arises if one searches for a pass which gives the bearer unlimited rides from the capital area to Höfn in Hornafjörður, and is good for nine months. A representative from Straeto says this is not a misprint.
að nema – to amount to
present
past
ég
nem
nam
þú
nemur
namst
það
nemur
nam
við
nemum
námum
þið
nemið
námuð
þau
nema
námu

upphæð (f) – sum, amount
singular
plural
nom
upphæð
upphæðir
acc
upphæð
upphæðir
dat
upphæð
upphæðum
gen
upphæðar
upphæða
The verb nema takes the dative when used in this way, which is why you see einni og hálfri in those forms.
"Þetta er bara þannig að maður slær inn gjaldsvæði og tölvan reiknar út verð og hættir ekkert að reikna," segir Kolbeinn Óttarsson Proppé, en nákvæmt verð kortsins er 1,447,100 krónur. Hann segir engan vegfaranda enn hafa nýtt sér möguleikann á að kaupa strætókort fyrir þetta verð.
"This is just someone entering in the payment zone and the computer calculates the price and doesn't stop calculating," says Kolbeinn Óttarsson Proppé, as the exact price of the pass is 1,447,100 kronur. He says no rider has yet made use of the possibility of buying a bus pass at this price.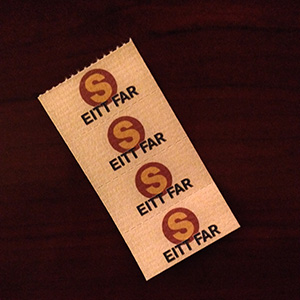 "Þeir sem kaupa svona kort eru oftast að ferðast tvisvar á dag," segir Kolbeinn. "Það er ekki hægt að fara þessa leið tvisvar á dag, því miður fyrir fjárhag Strætó. Ef allir keyptu sér svona dýrt kort, þá væri auðveldara að reka fyrirtækið."
"Those who buy such passes most often travel twice per day," says Kolbeinn. "It's not possible to take this route twice per day, unfortunately for Straeto's finances. If everyone bought such an expensive pass it would be much easier to run the company."

nema v (dat)            amount to
upp·hæð f               sum, amount
við·komandi adj         in question
ó·takmarkaður adj       unrestricted, unlimited
gilda v                 be valid
prent·villa f           misprint
reikna v (acc)          calculate, compute
hætta v (dat)           stop, come to an end
ná·kvæmur adj           exact, precise 
nýta v (acc)            utilize
fjár·hagur m            finances, financial status
fyrir·tæki n            business, company