Hay There
20 Monday May 2013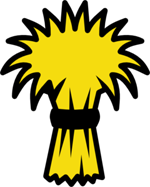 The snow in Northern Iceland is taking longer than normal to go away this year, which is having an adverse affect on farmers there. Normally the sheep would have been let out to roam and graze by now, but instead farmers are being forced to keep them inside on the farm and buy hay to feed them. This article from Vísir tells of one such farm in Svarfaðardalur which raises cows in addition to sheep.
Kaupa hey fyrir tvær milljónir – Buying Hay for 2 Million
"Hjónin á Steindyrum í Svarfaðardal eru bæði með kúa- og sauðfjárbú. Sauðburður hófst hjá þeim fyrir þremur vikum síðan og enn er féð hýst inni og í hólfi við fjárhúsið. Vegna snjóalaga sjá þau ekki fram á að geta sleppt fénu út á tún í bráð."
"The couple at Steindyr in Svarfaðardal have both cows and sheep at their farm. The sheep started giving birth three weeks ago but they are still being kept inside and in pens at the barn. Due to the snowfall they don't see any way to let the sheep out into the fields any time in the near future."
Unsurprisingly there are a lot of farm-related words in the article, and cows and sheep are the primary livestock found in Iceland, so you run into those words a lot:
kýr (f) – cow
singular
plural
nom
kýr
kýr
acc
kú
kýr
dat
kú
kúm
gen
kýr
kúa

sauðfé (n) – sheep
singular
nom
sauðfé
acc
sauðfé
dat
sauðfé
gen
sauðfjár
Note that kýr has the ý->ú vowel change. I think the word sauðfé might be used more specifically for sheep, with fé being a more general term for livestock. A ewe is ær, while a ram is hrútur. There is also the word kind for sheep.
ær (f) – ewe
singular
plural
nom
ær
ær
acc
á
ær
dat
á
ám
gen
ær
áa

hrútur (m) – ram
singular
plural
nom
hrútur
hrútar
acc
hrút
hrúta
dat
hrúti
hrútum
gen
hrúts
hrúta
It's interesting that ær declines in a similar way to kýr but with a different vowel change, á->æ.
""Við höfum bara rekið inn á kvöldin og haft þau í þessu litla hólfi yfir daginn. Girðingarnar eru ennþá á kafi þannig að ærnar leita eitthvað strax ef þær mögulega komast í burtu. Þannig að maður verður að reka allt inn á kvöldin svo þetta sé ekki á veginum eða ofan í skurðum og maður fari ekki að missa lömb út af því," segir Gunnhildur Gylfadóttir bóndi á Steindyrum í Svarfaðardal."
"'We've just been bringing them in at night and keep them in this little enclosure during the day. The fences are still buried (in snow) so the sheep will immediately look for a way out. So you have to bring them inside at night so they don't get out on the road or into a ditch, and you don't lose lambs because of that,' says Gunnhildur Gylfadóttir, farmer at Steindyrum í Svarfaðardal."
að reka – to drive
present
past
ég
rek
rak
þú
rekur
rakst
það
rekur
rak
við
rekum
rákum
þið
rekið
rákuð
þau
reka
ráku

að missa – to lose
present
past
ég
missi
missti
þú
missir
misstir
það
missir
missti
við
missum
misstum
þið
missið
misstuð
þau
missa
misstu
The verb að reka can mean drive, as in a herd of animals, or also run or operate, as in a business. Don't be confused by missa – it means lose in this instance, not miss.

hólf n (-s,-)                     compartment, box
girðing f (-ar,-ar)               fence
vera á kafi                       be covered (in snow)
strax adv                         right away, immediately
skurð/ur m (-ar,-ir)              ditch, canal

"Síðasta sumar var þurrt hjá bændum í dalnum og heyfengur því lítill, margir eru búnir með forðann sinn og hafa því þurft að kaupa hey.
"Við erum sjálf búin að kaupa 80 rúllur. Hér í Svarfaðardalinn er búið að kaupa sennilega rúmlega 600 rúllur, síðustu þrír vagnarnir eru að koma nú um helgina af heyi," segir Gunnhildur."
"Last summer was dry for the farmers in the valley, and not much hay was collected. Many have run through their stocks and have had to buy hay.
'We've bought 80 bales ourselves. Here in Svarfaðardal there's probably been almost 600 bales bought, the last three truckloads of hay are coming this weekend,' says Gunnhildur."
The word hey·fengur is a compound formed with fengur, which is like a catch (hunting), something obtained. I'm guessing it comes from a participle of fá – to get.

þurr adj (f þurr)                 dry
bónd/i m (-a,bændur)              farmer
dal/ur m (-s,-ir)                 valley
forð/i m (-a,-ar)                 supply, provision
rúlla f                           roll, bale (hay)

"Tíðarfarið eykur vinnálagið á bændur og kostnaðinn við búskapinn.
"Þetta er þungur baggi þar sem menn hafa kannski þurft að kaupa hey fyrir tvær milljónir. Það munar um ansi mikið í pyngjunni þegar það þarf kannski að leggja í mikil önnur fjárútlát út af þessu erfiða vori. Eins og girðingar og mikil frækaup ef það þarf að endurvinna tún," segir Gunnhildur en hver rúlla kostar tíu til ellefu þúsund krónur."
"The weather conditions increase the workload for the farmers as well as the cost of farming.
'That is a heavy burden as perhaps some have had to spend two million (kronur) on hay. It makes a big difference to your wallet when you might also have other large expenses because of this hard spring. Like the fences and large seed purchases if the fields need to be reworked,' says Gunnhildur, whose bales of hay cost ten or eleven thousand kronur."

tíðar·far n (-s)                  weather conditions
á·lag n (-s, álög)                burden, stress
bú·skap/ur m (-ar)                farming
bagg/i m (-a, -ar)                burden
út·lát n pl                       expenses, outlay
fræ n (-s,-)                      seed
tún n (-s,-)                      hayfield

Translating the quotations was pretty difficult, and I'm sure they aren't perfect, but should have captured the gist of it I think 🙂